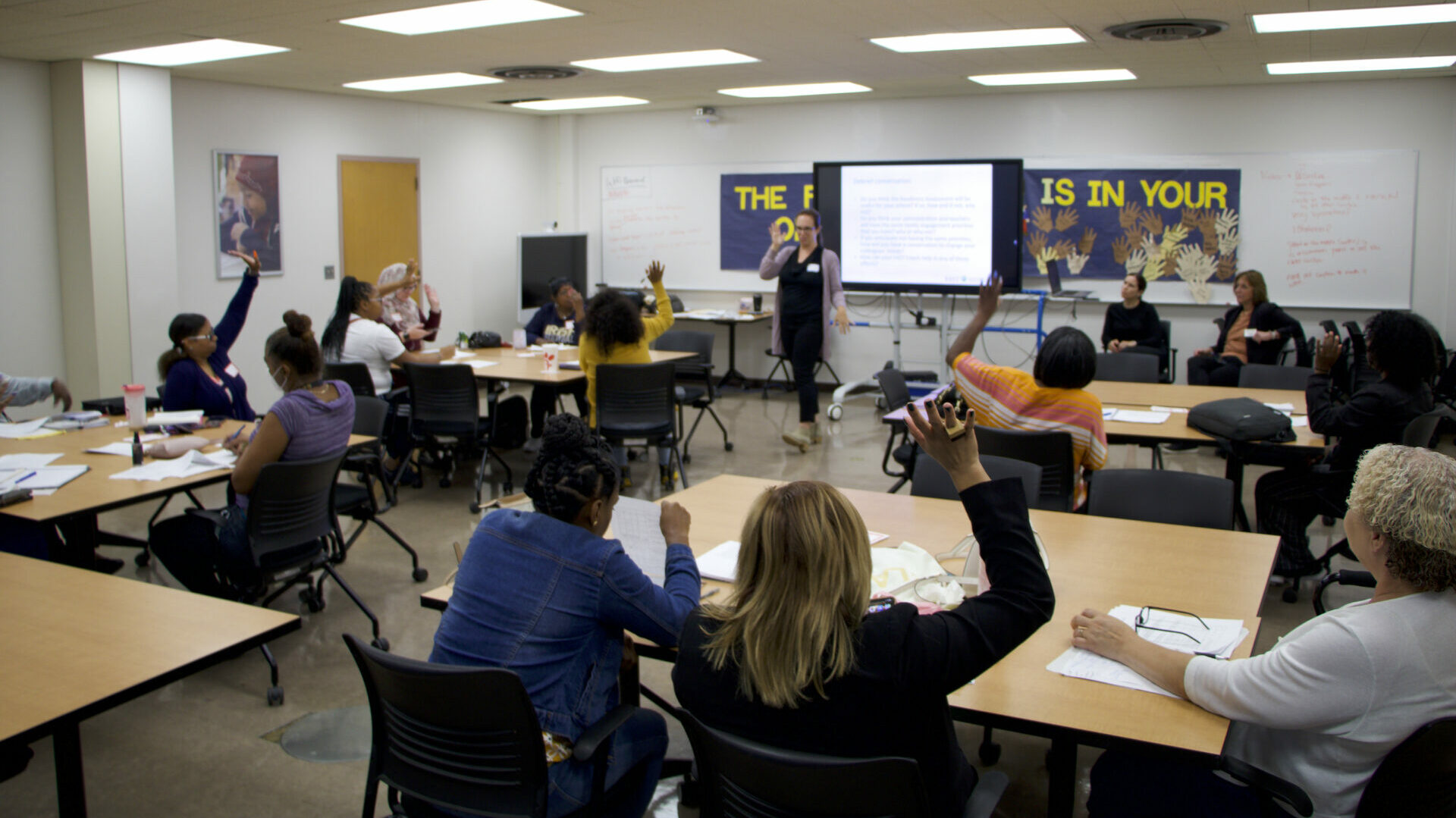 "Is anyone else in here trained as a teacher?" Dr. Robyn Sperling, former school teacher and current Director of Research and Innovation at Families & Schools Together, asked at the 2019 FAST Training of Trainers conference. She counted the hands raised in response to her question before following up with another: Did any of you have family engagement training in your coursework or preparation program?
Chuckles sounded throughout the room as every hand lowered. "Right?" Dr. Sperling echoed the sentiment. "That's my response, too: 'Of course not.'"
The reality is that those expected to work closely with children and their parents – teachers, educators, school staff – are rarely trained on how to effectively engage families, and often feel underprepared and unsupported in this work.
That moment segued into the workshop Dr. Sperling was leading at the conference: an introduction to the FAST Institute of Family Engagement, a professional development program for teachers and school staff created in response to the lack of adequate training and support generally available to educators.
Developed in 2018 with support from the gBeta Social Impact program and piloted in 2019, the FAST Institute was a project culminating not only Dr. Sperling's time as a teacher but also her career as a researcher, as well as her experience as a parent. The Institute invigorated FAST offerings, building and expanding on 30+ years of the established traditional afterschool program for children and families.
Key to the new program are two components: training and coaching. Professional development training sessions address timely topics including creating a welcoming environment, empowering families at parent-teacher conferences, collaborating with the community, and bridging race and culture; and all session aspects, from topic to duration to delivery, can be customized to meet the needs of any school or organization. For more in-depth learning and discussion, sessions can be optionally supplemented by a period of coaching, which is led by a FAST-certified coach, where participants practice and apply what they learn during training.
Initial pilot institute workshops were well received by the FAST community. Following the 2019 training conference, in a blog post published that October, Sheila Simonsen, a certified FAST trainer, said about the new program: "I'm really excited to see what's going on with FAST moving forward because… I try to make sure that we're always evolving and meeting the needs of our community and the families that we work with – not just doing something because we've been doing it for 20 to 30 years." (Ms. Simonsen is also now certified as a coach for the institute.)
With the crucial importance of family engagement underscored by the long standing inequities and divides exacerbated by the pandemic, momentum is building.
A grant from the Carnegie Corporation of New York enabled the FAST Institute to expand to up to 20 schools within the Milwaukee Public Schools (MPS) district beginning in the 2022-23 school year and extending into 2023-24 upon renewal. The first year wrapped up last week with a dynamic in-person session, where MPS parent coordinators and their coaches shared successes, goals, and opportunities for growth moving forward.
In 2021, the Wisconsin Education Association Council (WEAC) also partnered with FAST to provide institute sessions to WEAC members.
FAST programs offer a comprehensive approach to family engagement. The lack of family engagement training within the field of education was and remains to be a significant challenge that the FAST Institute is prepared to support schools and districts in addressing.
Learn more about the FAST Institute of Family Engagement or contact us.